American Defense Service Medal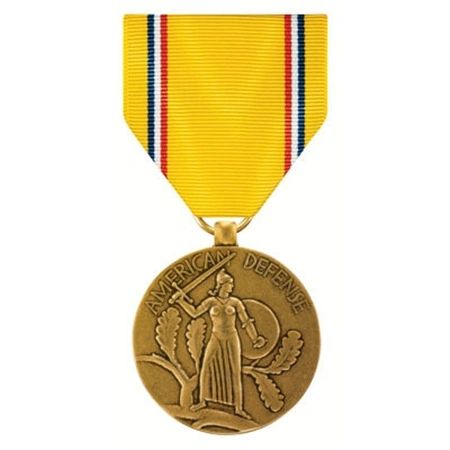 American Defense Service Medal
Product Description

American Defense Service Medal Service: All Services Instituted: 1941 Dates 1939-41

Criteria: 12 months of active duty service during the above period

Devices: All Services: Bronze Star (denotes bars); Naval Services: Bronze Letter "A"

Bars: Army: For­eign Service for service outside the continental United States (CONUS);
Navy/Marine Corps: FLEET for service on the high seas and BASE for service at bases outside CONUS; Coast Guard: SEA for service on the high seas

Authorized on June 28, 1941 for military service during the limited emergency proclaimed by President Roosevelt on Sept. 8, 1939 or during the unlimited emergency proclaimed on May 27, 1941 until December 7, 1941 if under orders to active duty for 12 months or longer. In addition to the bars depicted to the right, a bronze star is worn on the service ribbon to denote receipt of any of the bars. The Navy also authorized the wear of a bronze letter "A" if the recipient served with the Atlantic Fleet during the period of the national emergency. The bronze star was not worn if the letter "A" was awarded.
On the front of the medal is the Grecian figure, Columbia, representing America or Liberty, holding a shield and sword while standing on an oak branch, symbolic of strength. The oak leaves represent the strength of the Army, Navy, Marine Corps and Coast Guard. The inscription, "American Defense," is around the outside upper edge. The reverse of the medal carries the inscription, "For Service During the Limited Emergency Proclaimed By the President on September 8, 1939 or During the Unlimited Emergency Proclaimed By the President on May 27, 1941."
The golden yellow color of the ribbon symbolizes the golden opportunity of United States youth to serve the nation, represented by the blue, white and red stripes on both sides of the ribbon.

Reviews
Featured Products