Armed Forces Reserve Medal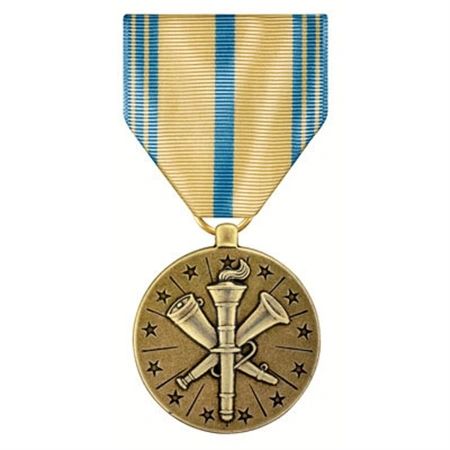 Armed Forces Reserve Medal

Service: All Services

Instituted: 1950

Criteria: 10 years of honor­able service in any reserve component of the United States Armed Forces Re­serve or award of "M" device.

Devices: Bronze, Silver and Gold Hourglass, Bronze Letter "M" , Bronze Numeral

Authorized in 1950 for 10 years of honorable and satisfactory service within a 12 year period as a member of one or more of the Reserve Components of the Armed Forces of the United States.

An executive order of Aug. 8, 1996 authorized the award of a bronze letter "M" mobilization device to U.S. reserve component members who were called to active-duty service in support of designated operations on or after August 1, 1990 (the M device was not authorized for any operations prior to August 1, 1990 although it had been previously proposed). Units called up in support of Operations Desert Storm/Desert Shield were the first units to be authorized the "M" device. If an "M" is authorized, the medal is awarded even though service might be less than 10 years. Previous to this change, only bronze hourglasses were awarded at each successive 10 year point (first hourglass at the 20 year point).

The front of the medal depicts a flaming torch placed vertically between a crossed bugle and powder horn; thirteen stars and thirteen rays surround the design. The front of the medal is the same for all services; only the reverse design is different (see designs below). Bronze numerals beginning with "2" are worn to the right of the bronze "M" on the ribbon bar and below the "M" on the medal, indicating the total number of times the individual was mobilized. Bronze, silver and gold hourglasses are awarded for 10, 20 and 30 years service, respectively.
The medal reverses are as follows:

Army has a Minuteman in front of a circle with 13 stars representing the original colonies.

Navy has a sailing ship with an anchor on its front with an eagle with wings spread superimposed upon it.

Marine Corps has the USMC emblem, eagle, globe and anchor.

Air Force has an eagle with wings spread in front of a circle with clouds and includes the inscription, "ARMED FORCES RESERVE."

Coast Guard has the Coast Guard emblem, crossed anchor with the Coast Guard shield in the center.

National Guard has the National Guard insignia on the reverse, an eagle with crossed fasces in its center.

Reviews
Featured Products