M-1943 Field Jacket Original, Size 38L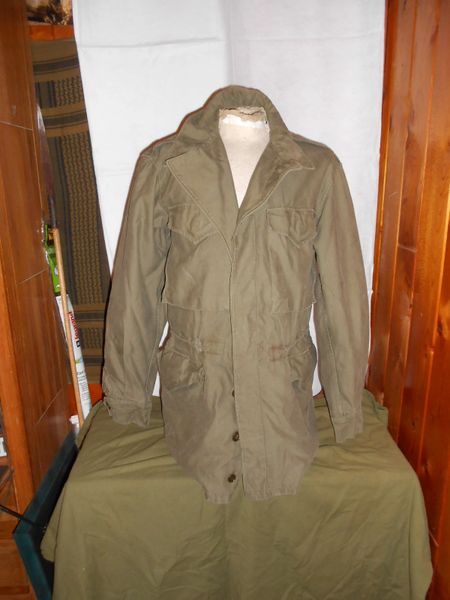 M-1943 Field Jacket Original, Size 38L
The Field Jacket M-1943 was an integral part of a combat uniform being developed by the War Department based on the layering principle to give great flexibility for conditions encountered in the world-wide war. In March 1943 the OQMG recommended a uniform based on the layering principle, but no agreement was reached on the individual components of the uniform. Internal debate went on during 1943 with the ETO Command favoring a British style short wool jacket. Differences were finally reconciled in 1944 and large quantities of the M-1943 (also called the M-43) jacket began to appear in the ETO, after tests by the 3rd Division at Anzio. Paratroopers wore them for Market-Garden and they were widely available to Army units in the Fall of 1944, and thereafter.
The Jacket, Field M-1943 (formal name) consisted of an olive drab cotton outer shell with layers added inside as more warmth was needed. There was a pile jacket liner for extremely cold areas, while the short wool jacket (the "Ike" jacket) was worn in milder temperatures. An olive drab cotton cap, also designated M-1943, was the head cover and was worn inside the helmet liner when the M-1 helmet system was used. The M-1943 jacket had a sateen outer shell with a cotton lining. The waist was adjustable with an internal drawstring. The wrists could be closed by buttons. The jacket could be closed with six hidden plastic buttons under a fly cover, creating a smooth front. Other important features of the M-1943 Field Jacket included:
Four reinforced cargo pockets, two at chest level and two below the waist line of the jacket.
A hood was available that could be buttoned on to the collar.
A neck flap was attached to the left side and could be buttoned across the throat area for cold or windy conditions.
As part of the layering principle, a liner was available for cold conditions.

Reviews
Featured Products