Naval Reserve Medal (Obsolete)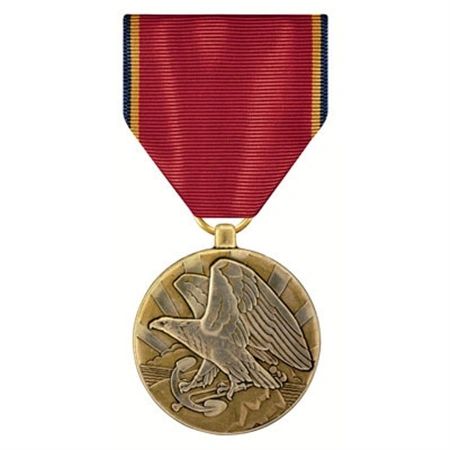 Naval Reserve Medal (Obsolete)
Naval Reserve Medal (Obsolete)

Service: Navy

Instituted: 1938 Dates 1938-1958

Criteria: Awarded for 10 years of honorable service in the U.S. Naval Reserve.
Devices: Bronze Star

Notes: The earlier ribbon version was a deep reddish-purple shade (the so-called: "plum" version). The medal was superseded by the Armed Forces Reserve Medal.

This medal was authorized on Sep­tember 12, 1938, and awarded to officers and enlisted men of the Naval Reserve who had completed ten years of satisfactory federal service in the U.S. Naval Reserve. Eligibility ceased during a time of war or national emergency if called to active duty. After the establishment of the Armed Forces Reserve Medal in 1950, a Naval Reservist who was eligible for the Naval Reserve Medal and the Armed Forces Reserve Medal could elect which award he was to receive. The Naval Reserve Medal was terminated on September 12, 1958 and now only the Armed Forces Reserve Medal is awarded. The obverse of the Naval Reserve Medal shows an eagle in an attitude of defiance, facing left, with wings raised. The eagle is perched on an anchor, flukes down to the left. The reverse of the medal is flat, with the inscription, "UNITED STATES NAVAL RESERVE" encircling the outer edge. At the bottom is a large star and the words, "FAITHFUL SERVICE" centered in two lines. A bronze star was authorized for each additional ten years of qualifying service. However there is little likelihood that a device was ever earned since a potential recipient would have to spend the total life span of the medal (twenty years) in the Naval Reserve during both World War II and the Korean Conflict.

Reviews
Featured Products