USAF Senior Enlisted Aircrew Badge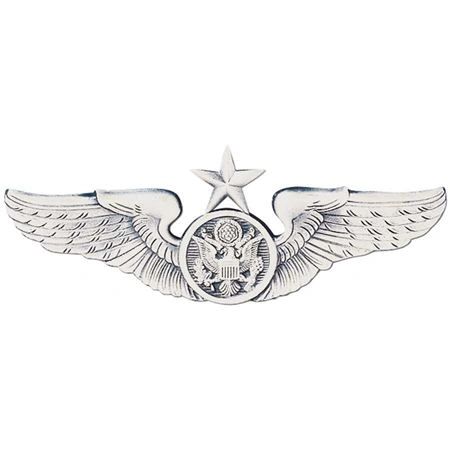 USAF Senior Enlisted Aircrew Badge
Product Description
USAF Senior Enlisted Aircrew Badge
A silver badge consisting of the United States Coat of Arms in a disk on spread wings. A star is centered atop the disk.

Approximately 3" width and the mini badge will be approximately 2" in length.

The Air Force Aircrew Badge is a direct successor to the Army Air Forces version of the decoration. Originally known simply as the Aircrew Badge, the Air Force began issuing the decoration to enlisted Aircrew members in 1947. By the time of the Korean War, regulations had been established for a senior and master version of the badge, indicated by a star and wreath above the decoration. As with the Army Aviator Badge, seniority of the Aircrew Badge was determined by flight hours obtained and years of service in the Air Force.

With the decline of the Observer Badge, a need quickly arose to award an Aircrew Badge to officers who had been trained as in-flight support personnel. By the time of the Vietnam War, the Air Force had created an Officer Aircrew Badge which was issued to non-rated officers trained for in-flight operations. The enlisted version of the Aircrew Badge remained the same, but was now referred to as the Enlisted Aircrew Badge.

In the modern United States Air Force, the Enlisted Aircrew Badge is still issued; however, the Officer Aircrew Badge is rarely awarded (usually to flight test engineers and a few communications, weather, and intelligence officers, depending on assignment). The number of officers awarded the Aircrew Badge dropped considerably in 1999, when Air Battle Managers became a rated career field.



Reviews
Featured Products