Vietnam War PRC-77 radio Transmitter AN/PRC-77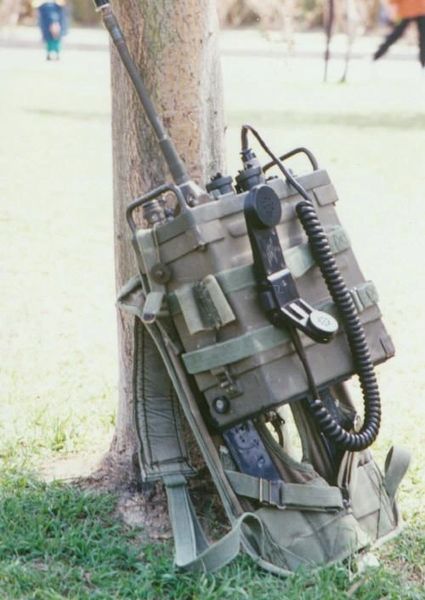 Vietnam War PRC-77 radio Transmitter AN/PRC-77
 I upgraded the radio with a double A battery with cost $75.00.  The radio shows it has power.  The AN/PRC-77 entered service in 1968 during the
Vietnam War
as an upgrade to the earlier
AN/PRC-25
. It differs from its predecessor mainly in that its final power amplifier stage is made up of solid state components and not vacuum tubes like the PRC-25. Also the PRC-77 has the ability to use
voice encryption
devices, while the PRC-25 could not. These include the TSEC/KY-38
NESTOR
equipment used in Vietnam and the later KY-57
VINSON
family. Problems were encountered in Vietnam with the combination as described in the NESTOR article.
Channels:
920 channels across two bands using 50 kHz steps
Frequency Ranges:
30.00 to 52.95 MHz (Low Channel);
53.00 to 75.95 MHz (High Channel)
Estimated Range:
8 km (5 mi) Dependent on conditions
Power Output:
1.5 to 2.0 watts
Power Source:
Current (2015) military batteries:
BA-5598/U LiSO2 nonrechargeable
BB-386/U NiMH and BB-2598/U Li-ion rechargeable

Obsolete (unavailable) nonrechargeable military batteries:
BA-386/PRC-25 zinc-carbon, BA-398/PRC-25 zinc-carbon cold weather vest (use w/cable to radio battery connector), BA-4386/PRC-25 magnesium

Discontinued but available military or equivalent batteries:
BA-3386/U alkaline nonrechargeable
BB-586/U NiCad and BB-LA6 SLA rechargeable
Antenna:
AT-271A/PRC 10 ft (3.0 m) multi-section whip "Static" Whip-a-way, or
AT-892/PRL-24 3 ft semi-rigid steel tape "Bush-whip",
Type of Service:
30K0F3E (FM)
Manpack field radio
land mobile service
Weight:
13.75 lb (6.2 kg)
Security
Could be used with TSEC/KY-38 NESTOR and, later, the KY-57 VINSON secure voice systems.
Note:
A modified version of the AN/PRC-77 is available and is designated
AN/PRC-1177. This version has been enhanced to allow a smaller
channel step of 25 kHz and to reduce voice bandwidth to 6 kHz. These
features combine to double the number of available channels to 1840.
Reviews
Featured Products